Intellectuals solve problems, geniuses prevent them.
- Albert Einstein
Be a data quality genius with Validatar
Validatar is an innovative data quality automation and testing platform, created for (frustrated) data pros by (frustrated) data pros.
Validatar enables organizations to modernize and dramatically improve their data quality with automated discovery, testing, and monitoring of their data assets.
No more wasted resources debating accuracy of data, missing valuable insights, and intensive manual testing. Prevent problems before they start. Easily understand what data is available, track data profiles over time, build automated rules, testing, and alerts for a robust and accurate data pipeline, and monitor data and metadata structure and activity.
With Validatar, organizations can create a resilient data ecosystem and equip business leaders with confidence to make powerful, data-driven decisions.
A Semi-Brief History of Validatar
Validatar was conceived and incubated by our team of Data Quality Experts while working at Teknion Data Solutions, a data & analytics consulting company that has served clients globally for over 20 years.
Our team kept finding that many of the challenges our clients faced were ultimately due to poor data quality. As an organization scales, their core business data becomes more fragmented and siloed. We knew the ability to test and validate data assets, at scale, in an automated way, was critical to the success and health of an organization.
When we searched for a technology solution to improve our client's data quality, none truly provided a comprehensive answer. Either the tools available were fairly one-dimensional in focus, not able to test holistically in a scalable way across the data pipeline, at every stage of project development, or the companies selling these tools were focused on a much larger technology offering, instead of primarily dedicated to data quality.
So we leveraged decades of experience, our expertise creating solutions for complex data environments, and launched Validatar.
Meet the Validatar Leadership Team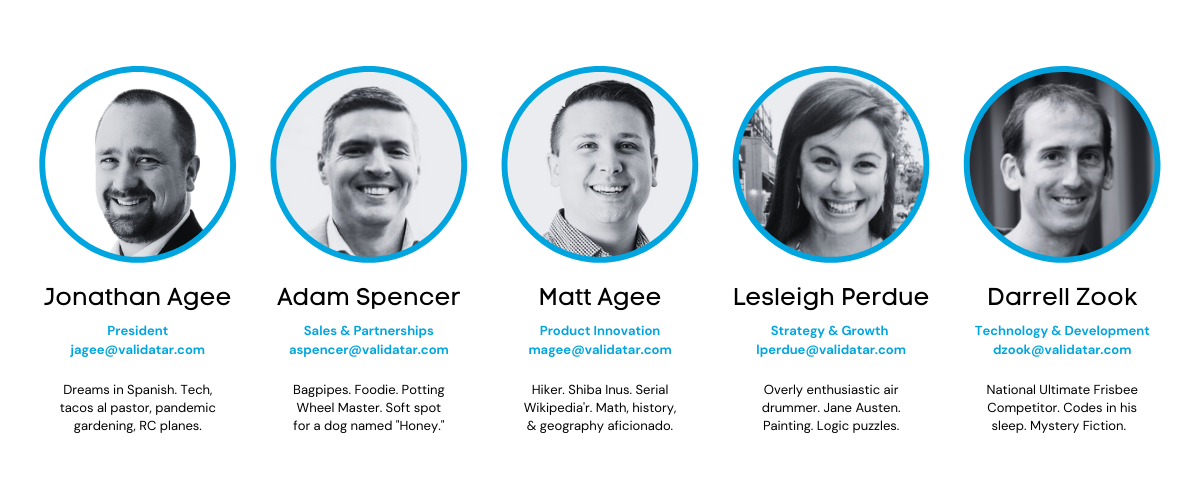 Validatar Values
You know the strange phenomenon where dogs look like their owners?
At Validatar, the product looks like the team.
Our team has a passion for truth, integrity, and authenticity - corporately and personally. Some of us are optimists, some are realists, all are hope-filled and curious.
We take things like data quality seriously, but try not to take ourselves too seriously. We have fun, we genuinely enjoy working together, and are total unabashed nerds.
In the words of Brené Brown, we collectively aim to "choose courage over comfort; choose what is right over what is fun, fast, or easy; and choose to practice our values rather than simply professing them."